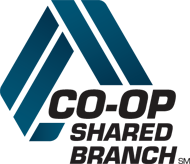 Are your members aware of their unique ability to access their accounts in over 5,000 different locations? As part of the CO-OP Shared Branch network, participating credit unions are entitled to utilize a wealth of marketing materials to promote their involvement with CO-OP Shared Branch and to educate their members.
Turnkey Marketing
Get the word out and save time with a turnkey marketing solution from UsNet. Professionally designed marketing campaigns can be customized with your credit union's brand and tailored to your specific needs. Choose from statement inserts, flyers, posters, web copy and more!
Tracking Results
Interested to see the results of your marketing efforts? UsNet uses advanced software and analytics to help credit unions identify opportunities, determine optimal levels of network participation and monitor the impact of targeted marketing efforts. For more information on tracking, contact the UsNet at 1-877-876-3823 or at This email address is being protected from spambots. You need JavaScript enabled to view it..
CAMPAIGNS
Shared Branching Marketing Campaigns
As a member of the UsNet community, your credit union has access to a variety of marketing campaigns from CO-OP Shared Branch and UsNet. From direct mail pieces and branch signage to web graphics and social media tools, each campaign has everything you need to remind members of the great benefits shared branching provides.
UsNet CO-OP Marketing Campaign
Current CO-OP Extranet Users

To access the marketing materials, visit the CO-OP Marketing Portal and sign in with your CO-OP Extranet username and password, which you can obtain from your Extranet Administrator. To confirm the identity of your Extranet Administrator, simply contact the CO-OP Financial Services Client Services Department at (800) 782-9042, Option 2 or

This email address is being protected from spambots. You need JavaScript enabled to view it.

.

New Users

If your credit union does not yet have access to the CO-OP Extranet, please visit the CO-OP Marketing Portal and complete the form provided. Your request will be forwarded to CO-OP's third-party platform, Systemax, to be processed.
Systemax will email you within two business days with information on accessing their site. If you do not receive the email within two days, please contact

This email address is being protected from spambots. You need JavaScript enabled to view it.

to ensure that it is not being blocked by your email filter.
Important: Please reference the following instructions when accessing the Systemax site for the first time.
After clicking the link provided in Systemax's email, you will see four fields.

Company: Leave this field blank.
Cost Center: Leave this field blank.
User Name: Enter your email address using lower case letters only.
Password: Enter the word "coop" (all lower case).